Fractions As Operator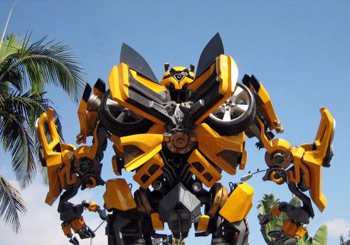 How much is 10% of

something?
That " % of" is a symbol of a fractions as operator.
A concept reportedly not much emphasized at school (Usiskin, 2007 in [1])
Fractions can be seen as a mathematical operator, like the sign "plus" or "times".
Fractions can be "transformers" which can "shrink or enlarge", "multiply or divide" , "lengthen or shorten" , "increase or decrease" something [2].
The symbol 2/3 means that we must act on a set of things, on a segment, on a geometrical picture and apply an operation on it.
| | | |
| --- | --- | --- |
| multiplication | | division |
This new transformer is the operation of multiplication and division combined.
2/3 of 100 (yards, eggs, pixels, dollars) means
hundred times two divided by three: (100 x 2) : 3 = 66.666...(yards, eggs, pixels, dollars)
Example of fractions as operator
Let's take a piece of rod, or a segment:

To say 3/5 of that segment means that we must first take 3 of such pieces, or better we can say we make 3 copies of it, like this
and then we divide those "copies" by 5 (precisely we divide - we partition - them in five equal parts and take only one)

Fractions are used in this way continously in every day activities like calculating the percentage of a discount when buying something, preparing a meal for more people than the recipee indicates, calculating the length of a boat you want to reproduce in a 1:28 scale, and so forth.
---
Source:
1 Elementary and Middle School Mathematics: Teaching Developmentally (7th Edition)
2. Teaching Fractions And Ratios For Understanding: Essential Content Knowledge And Instructional...
Picture with Cortesy of LAIST,
---
From fractions as operator concept back to basic algebra fractions