Swiss Algebra Help Blog
This Swiss Algebra Help blog is an updated list of any new information available to you through this website, www.swiss-algebra-help.com.
It...
tells you whenever any new web pages appear, letting you know about new information or any new products relating to learning and understanding algebra, trigonometry and geometry.
points out some of our favorite things that you might otherwise miss.

give you some insights into learning and teaching maths
provides some reading suggestions
gives you free printable worksheets from pre-algebra to higher algebra and related topics


Some mathematical quotes:

Archimedes
"It is not once nor twice but times without number that the same ideas make their appearance in the world."
Erdös
"Television is something the Russians invented to destroy American education."
Napier
"The use of this book is quite large, my dear friend
No matter how modest it looks,
You study it carefully and find that it gives
As much as a thousand big books."
Source of quotations: http://www-history.mcs.st-and.ac.uk/Quotations/index.html
Dec 17, 2015
Converting fractions (continued)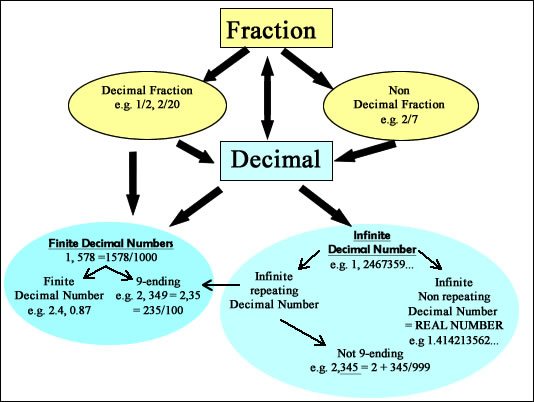 Converting fractions (continued): We end our exploration of the meaning of decimals and what converting fractions to decimals and decimals to fractions really is. A diagramm illustrates the concept.
From the Swiss algebra help blog back to the homepage